Introducing Food & Physical Literacy
Food Literacy
Food literacy is the knowledge, attitudes and skills that people have about food. It is also about developing a positive relationship with food. Food literacy includes an understanding that cultural foods and Traditional foods of indigenous peoples are important and that food is connected with mental health and well-being.
WHY DOES FOOD LITERACY MATTER IN THE EARLY YEARS?
Food preferences are formed early in life. Learning about food can prepare young children for a lifetime of healthy eating by equipping them with the beginning skills to grow, select and cook food. The more children understand about food, the more likely they are to try new foods and eat a healthy diet.
FOOD LITERACY CAN ENHANCE EARLY YEARS DEVELOPMENT. 
For example:
• Social/emotional skills - eating together, taking turns, serving self, learning table manners, etc.
• Creativity/exploration –exploring new foods, making a personal size pizza, building a fruit yogurt parfait, etc.
• Physical activity/active play – gardening, field trip to orchard or farm
• Communication skills – talking about food (colour, shape, taste, smell, feel, crunchy, etc.); sharing food stories, working together in the kitchen, etc.
• Culture/diversity – trying foods of different cultures, stories about food culture
PHYSICAL LITERACY
Physical Activity is movement using the body that requires energy, increases heart rate and speeds the rate of breathing. Physical Literacy is having the movement vocabulary (fundamental movement skills) and motivation, confidence and competence to move for a lifetime! Skills such as hopping, running, jumping, throwing and catching are key building blocks for being physically active.
WHY DO THEY MATTER IN THE EARLY YEARS?
The early years provides a window of opportunity for developing motor skills and establishing lifelong patterns. It's also a time of rapid growth and development physically, emotionally and socially. Physical activity in the first five years helps the brain grow and develop and supports development of social skills.
Children of all ages learn through active play. Active play can be done in a number of ways including facilitated or unstructured, indoors or outdoors and in groups, pairs or alone. Active play leads to movement competence and confidence.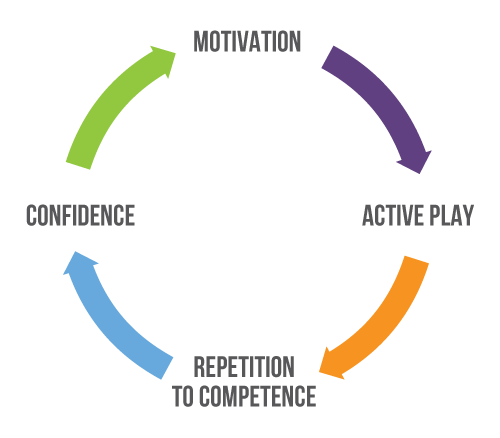 CHILDREN LEARN TO BE PHYSICALLY ACTIVE THROUGH:
Movement rich environments

Opportunities to engage and interact

Gradually more complex experiences

Play-based and child led activities

Adult role modelling and support