Bean and Veggie Quesadilla
Yield
12-16 child-size portions
Preparation Time
15 minutes
Common Allergens
milk, wheat
Equipment List
Large cookie sheet
Strainer
Large non-stick pan
Grate
Spoon
Measuring cups and spoons
Ingredients
1 package (272 g) or 12 whole
Whole wheat tortillas
19 oz. (540 mL)
1 can of black beans
1 tsp. (5 mL)
Olive or canola oil
1 cup (250 mL)
Red pepper, diced
1 cup (250 mL)
Green pepper, diced
1 cup (250 mL) Broccoli, chopped
Broccoli, chopped into florets
1 tsp. (5 mL)
Chilli powder
1 1/2 cups (375 mL)
Cheddar cheese, shredded
*
Salt and pepper to taste
Instructions
Preheat oven to 350°F (180°C).
Place two tortillas on a large cookie sheet. 
Open canned beans and place in a strainer. Rinse under cold water.
In a large non-stick pan heat oil. 
Sauté red pepper, green pepper, broccoli and beans until soft. About three minutes. 
Add chilli powder, salt and pepper and sauté one minute. 
Add 1/6 of veggie and bean mixture onto one half of each of the tortillas. 
Sprinkle with cheese. 
Fold other half of tortilla over vegetable mixture and cheese. 
Repeat until all filling is used. 
Bake for 10 minutes or until cheese is melted. 
Note: Childcare facilities with 8+ children should check with their Licensing Officer about what is needed to serve food
Recipe adapted from Collective Kitchen Cookbook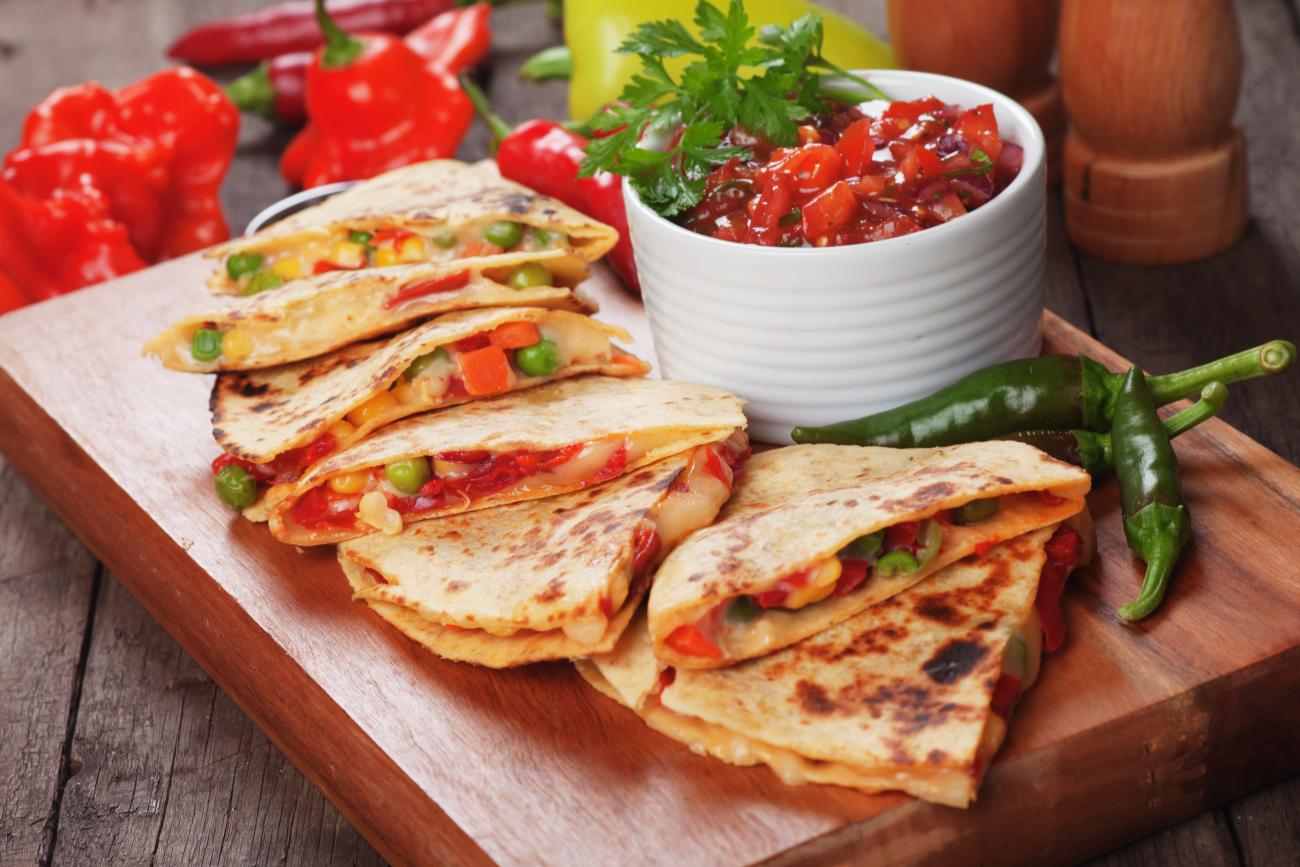 Bean and Veggie Quesadilla