Khoresh e Gheyme (Persian Split Pea Stew)
Traditionally made with lamb or beef, this khoresh (stew) can also be plant-based, making it more affordable and a simpler texture for young children. The incredible flavours of Persian cuisine, like cinnamon, are so warming on a cold day. Serve over basmati rice.
 
Yield
10 child-size portions
Preparation Time
15 minutes
Equipment List
Stove
Large pot
Strainer
Cutting Board
Knife
Large spoon
Ingredients
½ can
tomato paste (156LM can)
3
dried limes (or juice of 1 fresh lime)
Instructions
1. Using a medium pot, place split peas and cover liberally with water (3-4 cups). Bring to a boil then reduce heat and simmer until tender, approximately 30 minutes. Drain and set aside.
2. Heat a large pot with a lid on medium heat. Add remaining 1 Tbsp oil then onion. Sprinkle with salt and turmeric then cook until golden. Add garlic and cook 1 more minute then add tomato paste, cinnamon, cooked split peas and water. Bring to a boil then reduce to a simmer and cook covered for approximately 20 minutes. 
3. Meanwhile, slice potato into small strips and dry with a paper towel. Heat 2 Tbsp oil in a large skillet on medium heat. Add potatoes and fry until crisp and golden. Remove from pan and set aside on a paper towel to cool and soak up the excess oil.
4. Add lime and adjust seasonings as desired. Serve over basmati rice, topped with the fried potatoes (younger children 4 and under may need the potatoes served on the side to reduce the risk of choking).
Source: Nicole Fetterly, RD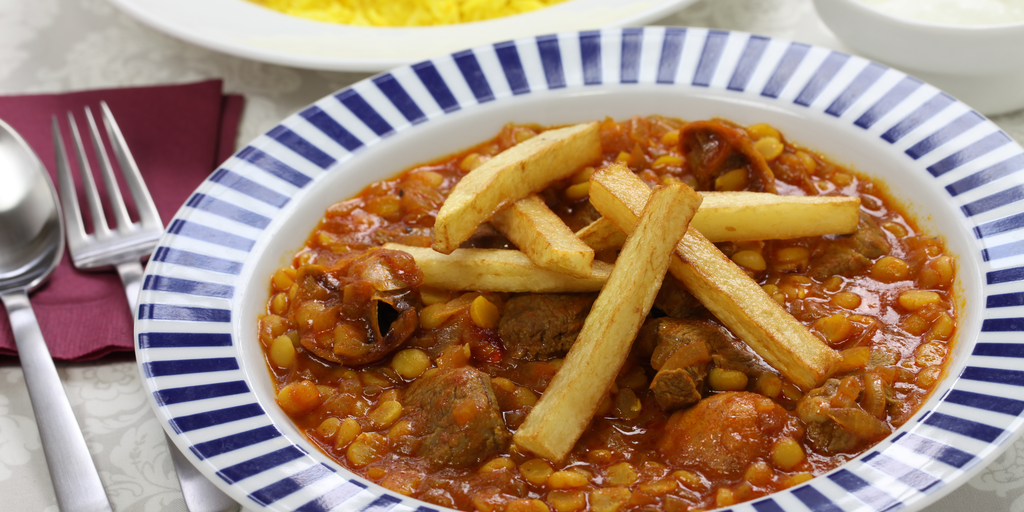 Khoresh e Gheyme (Persian Split Pea Stew)