Not sure eating salad gets more fun than this!
Yield
8 child-size portions
Preparation Time
10 minutes
Common Allergens
milk, nuts (optional)
Equipment List
Knife
Cutting board
Several small bowls
Vegetable peeler
Ingredients
A variety of
vegetables (e.g. cucumber, peppers, carrots, grape tomatoes, green beans, broccoli)
Instructions
Directions
Wash, chop, dice, peel or otherwise prepare raw veggies in an assortment of shapes and sizes.

Place veggies and other ingredients in bowls for kids to select.

Invite kids to make a picture with their food ingredients!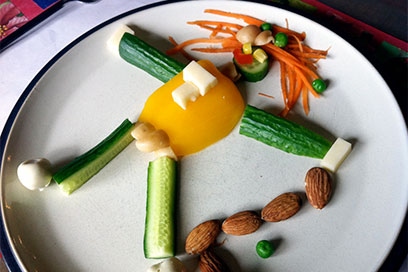 Source: www.bettertogetherbc.ca
Note:  Childcare facilities with 8 or more children should check with their Licensing Officer about what is needed to serve food.