Drink in the Beauty with Flower Water

Many types of wild and cultivated flowers are both beautiful and edible.  Like leafy greens, they are packed with a multitude of vitamins, anti-inflammatory properties, and antioxidants.  Some flowers are savoury, but others are mild and almost sweet, such as pansies, lavender, chamomile, clover, and wild or cultivated berry flowers and roses.  In addition to adding some nutrients, putting flowers and herbs in water is also a great way to encourage kids (and adults!) to stay hydrated in the heat.  Pansies are one of the easiest and most affordable flowers to grow, and if picked regularly will produce flowers from spring until fall.  Gathering or growing flowers is also a great way to get outside and connect with nature, and picking flowers is fun for the whole family. 
Be sure the flowers you and the children in your care are consuming are edible and that children understand that not all flowers can be picked and eaten.
Yield
12 ice cubes and a 1-2 litre pitcher of infused water
Preparation Time
2 minutes
Equipment List
Ice cube tray
1-2 litre pitcher
Ingredients
12
whole pansy flowers, wild rose or rose petals, lavender, chamomile, clover, berry flowers, or a variety of these edible flowers
A few
mint leaves, crushed
4-5
thin slices of peeled cucumber
1-2
slices of lemon or orange (optional)
¼ cup
frozen berries of any kind 
4 cups
water enough to fill an ice-cube tray and pitcher
Instructions

1.    Place 1 flower or a few petals into each ice cube tray.
2.    Fill with water.
3.    Freeze until solid.
4.    Place mint, cucumber slices, lemon or orange, and berries in a pitcher.
5.    Fill with water and let sit in fridge overnight.
6.    Combine ice cubes with water and enjoy!
 
For more information on edible flowers click on links below: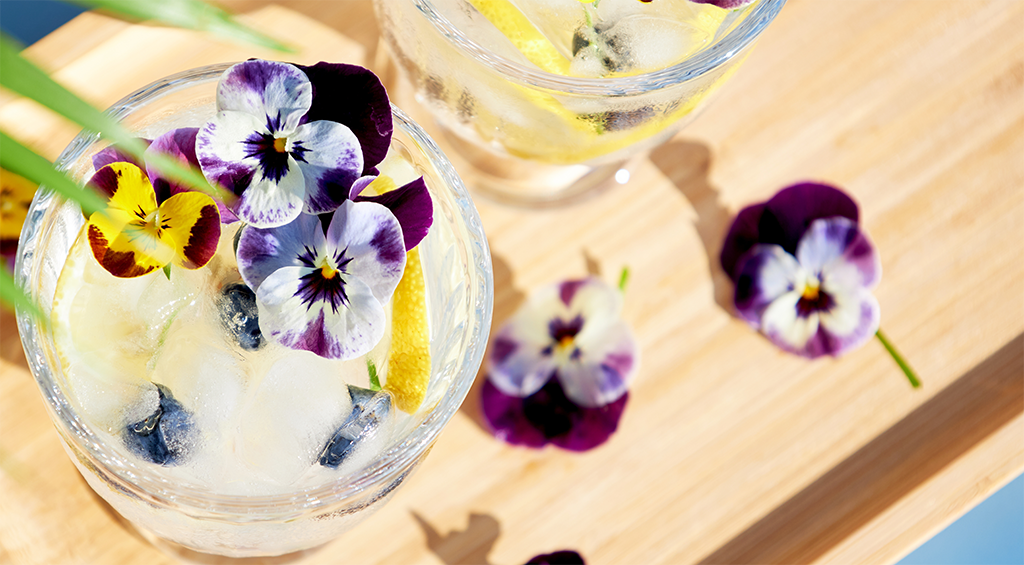 Drink in the Beauty with Flower Water