Squash or Pumpkin Fritters
Pumpkins and squash grow along vines on the ground and are harvested mostly in the Fall here in British Columbia. Their seeds are also edible—just rinse off the orange bits, dry, toss in olive oil and a pinch of salt and roast at 325F for 15 minutes until golden. Pumpkins are not just for jack-o-lanterns! They are a high-fibre, mineral rich veggie that are great in muffins, breads, soups and stews, but the ones we cook with are the smaller sugar pumpkins.
Fritters or savoury pancakes are a great way to get in some extra veggies. They can be served on their own or with a tzatziki or yogurt dipping sauce.
Yield
10 child-size portions
Preparation Time
10 minutes
Common Allergens
none (unless substituting wheat flour)
Equipment List
Baking sheet (unless using canned pumpkin)
Medium-sized bowl
Large spoon
Masher
Large skillet
Spatula
Ingredients
1
medium-sized squash (e.g. acorn, butternut, sugar pumpkin) or 2 cans (398 mL) canned pumpkin
1 can (14 oz/398 mL)
chickpeas, drained and rinsed
1
lemon (juice of 1 lemon)
1/4 cup
chickpea flour (or can substitute whole wheat flour)
Instructions
1. Preheat oven to 350F. Cut squash in half lengthwise and scoop out the seeds. Set aside for roasting if desired. Place squash halves skin side down on a baking sheet and drizzle with 1 tsp olive oil. Bake for 30-40 minutes until the flesh is easily pierced with a fork. Remove from oven and let cool. This step can be done up to 2 days in advance (keep cooked squash in the fridge).
2. Meanwhile, place chickpeas in bowl and mash, then add lemon juice, flour, salt and spices. Scoop the squash out of the skin and add to the bowl, mashing it up. Stir it all together to combine well.
3. Heat a skillet on medium heat. Add 1 tbsp of oil. Scoop approximately 1.5 tablespoons of squash mixture into the pan and flatten slightly into a fritter. Repeat forming another 9 small fritters. Cook approximately 2-3 minutes then flip and cook another 2-3 minutes until golden brown. Remove from pan to a paper-towel lined plate and keep warm in the oven.
4. Add remaining 1 Tbsp of oil to pan and cook remaining 10 fritters. Serve warm with dipping sauce if desired.
Source: Nicole Fetterly, RD
Note:  Childcare facilities with 8 or more children should check with their Licensing Officer about what is needed to serve food.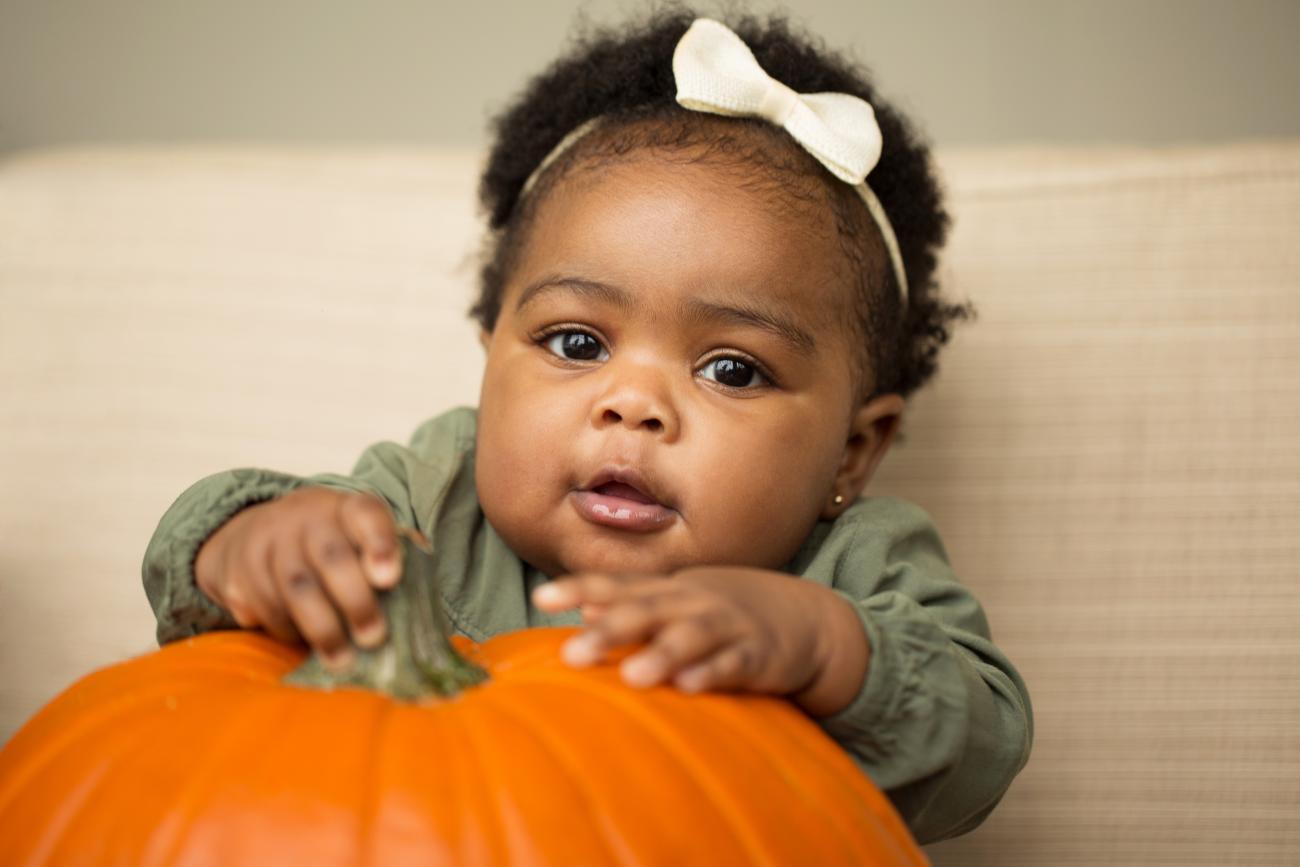 Squash or Pumpkin Fritters