Make veggies more fun by arranging them into a shape or pattern, like this cat! This is a fun way to include the theme of Halloween without sugary treats.
Yield
8 child-size portions
Preparation Time
20 minutes
Common Allergens
none (depending on dip)
Equipment List
Cutting board
Knife
Tray or cutting board for presentation
Small bowl
Ingredients
1/2
orange or red pepper, sliced
4-5
medium to large white mushrooms
6
small pieces of broccoli florets
2
celery sticks cut into 8 lengths
1-2
carrots cut into sticks—enough for 16 pieces, plus three coin slices for the face
1
small bowl of black bean dip
2-3
basil leaves for the ears and mouth
Instructions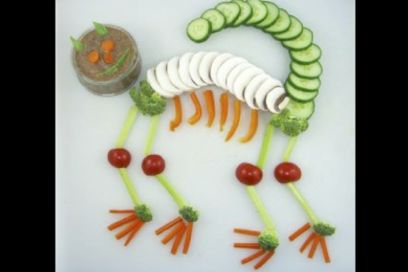 Following the image, cut and arrange veggies to make a cat skeleton.
Cucumbers: tail

Grape tomatoes: knees

Pepper slices: ribs

Mushrooms: spine

Broccoli: shoulders, hips and paws

Celery: legs 

Carrot sticks: claws
2. Pour dip into small bowl to form the head. Use carrot coins and basil leaves to form the features of the face and the ears.
Source: www.bettertogetherbc.ca
Note:  Childcare facilities with 8 or more children should check with their Licensing Officer about what is needed to serve food.