Peanut Butter Banana Quesadilla
Quesadillas are one of the first meals children can cook on their own, as they can be microwaved as an alternative to crisping them up in a skillet. But they don't just have to be cheese, beans or veggies. Experiment with sweeter versions made with fruit! We no longer delay the introduction of allergens like peanuts so you only need to avoid them if you have a child with a diagnosed peanut allergy  and in that case,  use a different nut, seed or soy butter.
Yield
10 child-size portions
Preparation Time
5 minutes
Common Allergens
wheat, nuts
Equipment List
Microwave or stove top
Large plate or skillet
Knife
Cutting board
Ingredients
4
large whole grain tortillas
1 cup
natural peanut butter (or substitute an alternative like soy butter)
Instructions
1. Lay out two of the tortillas on a cutting board and spread with the nut butter. 
2. Slice the banana and arrange on both peanut butter tortillas. Top with the other two tortillas.
3. Heat a large skillet on medium low heat (or place quesadillas one at a time on a microwave-safe plate). Cook quesadillas one at a time until slightly crispy. If microwaving, likely a minute will provide enough to warm everything.
4. Slice and serve.
 
Source: Nicole Fetterly, RD
Childcare facilities with 8+ children should check with their Licensing Officer about what is needed to serve food.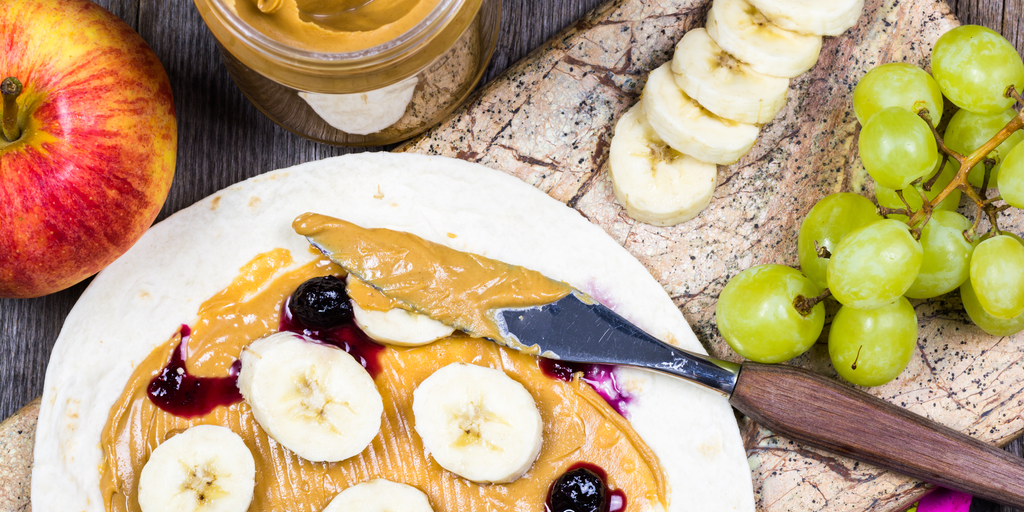 Peanut Butter Banana Quesadilla