Rhubarb Raspberry Crumble
Rhubarb is one of the first things to emerge in our gardens in BC but you can also find it fresh or frozen at the grocery store. This crumble is full of fibre because it's packed with whole grains and fruit, but and much lower in sugar and fat than traditional recipes. Get children involved by having them mix ingredients and layer them in the pan. 


 
Yield
12 child size portions
Preparation Time
15 minutes
Common Allergens
milk, wheat
Equipment List
Oven
9 x 9 baking dish
Mixing bowl
Cutting board
Knife
Measuring cups
Ingredients
3 cups
rhubarb, fresh or frozen
3 cups
raspberries, fresh or frozen
1/4 cup
hemp hearts (or other finely chopped nuts or seeds)
3 tbsp
butter and/or olive oil 
Instructions
Instructions
1.    Preheat oven to 350°F.  Grease baking dish.
2.    Chop rhubarb in small pieces. Combine with raspberries in the prepared baking dish and spread into an even layer.
3.    Combine the remaining ingredients, working the butter in by hand so it is evenly crumbly, then layer on top of the fruit.
4.    Bake for about 45 minutes. Allow to cool a few minutes before serving. Top with plain yogurt if desired. Refrigerate any leftovers for up to 3 days.
 
Source: Nicole Fetterly, RD
Childcare facilities with 8+ children should check with their Licensing Officer about what is needed to serve food.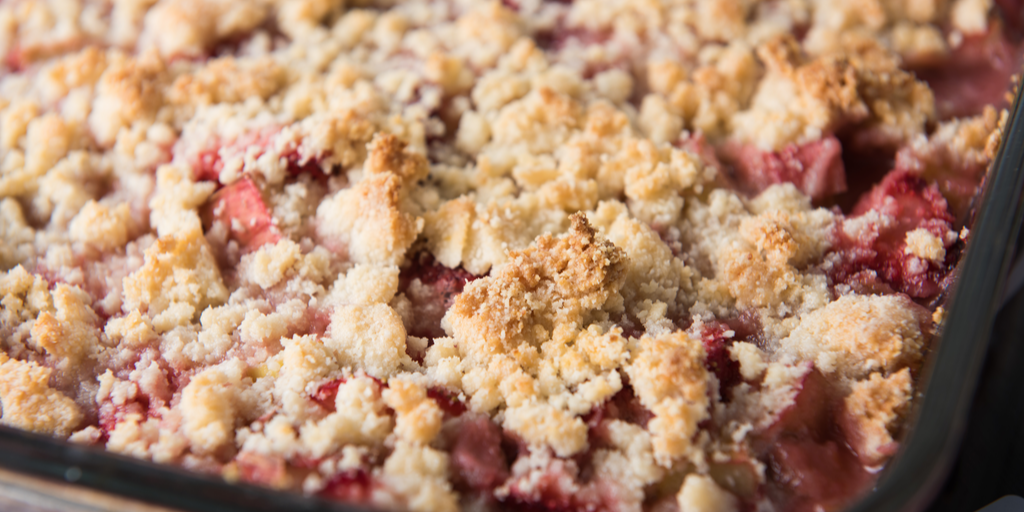 Rhubarb Raspberry Crumble